About us

Since 1977 on the road of innovation!
Our company 
Come s.r.l.
 was founded in 2014 by Ezio Comparini, after 35 years of experience in consumer goods, the first in the world to use 
Individually Quick Frozen (I.Q.F)
technology to make ready meals better known "4 salti in padella". Come s.r.l. is a firm specialized in the production and marketing of ready meals stored at room temperature and cooked in 4 minutes in microwave oven at 1.000 Watt or 5 ½ minutes at 750 Watt and in a pan, with no preservatives, artificial colors, gmo, glutamate, and made in Italy. The new line of products branded "COME s.r.l." combine traditional cuisine, regional specialties of Italian, and technological innovation for an unprecedented exploration of taste and gastronomical experience (PATENT PENDING!). The recipes of the products offered have been designed to impress and invigorate meals using raw materials of highest quality and traditional dishes: our know how is revolutionizing the concept of food preparation, through word of mouth, on trains, in communities, stores, homes, boat, camping, travel, office and more. The products cook quickly yet taste as if they were made to order from the best Italian restaurants.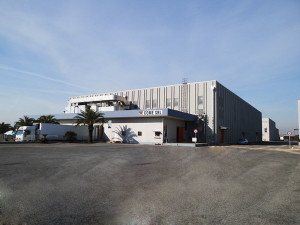 The company is located in an agricultural area, bordered by kiwi plants with their processors, far few kilometers from
Giardini di Ninfa
("The most beautiful and romantic garden of the world" New York Times): the firm has a new technologically advanced plant able to satisfy customers' demands. The highly experience acquired over the years, the high technology of its plant, the ability to meet all customer needs, from customizing of the recipe to the choice of the format, up to the type of packaging, are the properties that make COME s.r.l. the main contact for important international partners. Our production facility is lean, efficient, skilled, led by technicians and technologists of high skill and competence and able to monitor each product thanks to an high quality traceability system. Consumer consumption trends confirm that today's consumers are paying more attention to waste and price, while prioritizing products that save time without sacrificing taste or quality. Come s.r.l. continues to focus on meeting consumer demands, including its newest line of products 
easy to cook
!!! (
fool-proof
)
A story of passion.
The COME s.r.l. was founded in 2014 by Ezio Comparini, after 35 years of experience in consumer goods; he began his career in 1977 when, with his brother Mario, he set up CUOCO GEL,
later became GELIT S.p.A (located in Doganella di Ninfa – Cisterna di Latina, which was acquired by the Barilla Group in 2001), co-packer of the main leaders of the market for frozen food like crepes, rice balls, arancini, mozzarella in a carriage. Ezio Comparini was the first in the world to introduce the method of production "stir fry" in 1991, a new technology that has the merit to revive and revitalize a segment, namely ready meals, with great potential: the new method allows to cook the product in just 5 minutes in a pan (the famous "four jumps in the pan"), against the 30/40 minutes for the traditional block-frozen product! In 1993 the company conquered the consumers by marketing its products under the brand Surgela (SME) later became Buitoni (Nestlé): exclusive partner of all major brands of frozen food sector of the distribution chains, with private label and own brand, the first competitor of the multinational market leader, the company founded by Ezio Comparini produced about 20,000 tons of finished product between crepes stuffed ("sofficini"), IQF ready meals, rice balls, arancini, Mozzarella (Galbani) and other products.